Scientific Name:
Kinosternon flavescens
Diagnostic Features:
Carapace oval lacking a keel (may be depressed medially) and no posterior serration.

First vertebral in contact with 2nd marginal.

Both 9th and 10th marginal scutes are elevated.

Plastron short and narrow with 11 scutes and two well-developed hinges.

Triangular-shaped pectoral scutes.

Webbed feet.
Coloration:
Carapace olive to brown with dark seams around scutes.

Plastron yellow to brown with dark seams around margins of scutes.

Skin is yellow or gray on limbs, neck and head.
Size:
Kinosternon flavescens commonly reach adult lengths of 18 cm (7 in).
General Distribution:
In North America, the distribution of Kinosternon flavescens much of Texas and the eastern halves of Oklahoma and Kansas. Additional populations are found in Arizona, New Mexico, Nebraska, Missouri, Iowa, and Illinois.
Behavior:
This turtle species is mainly diurnal, but some activity takes place at night. Can be seen basking on logs and rocks out of the water. Yellow mud turtles can occasionally be found on roads and/or away from water as they can move between waterbodies; this movement often occurs at night and can coincide with rainfall. During periods of drought or in the hottest part of the summer, yellow mud turtles can bury themselves into the soil and estivate. This species is omnivorous, preferring animal prey (snails, crayfish, aquatic insects, fish, amphibians, and even carrion) over vegetation.
Reproduction:
Nest is May to June. Females may lay two clutches of eggs per year, with clutch size ranging from 1-9 eggs Hatching occurs August to October following an incubation period of 95-115 days.
Habitat:
Yellow mud turtles can be found in many slow moving waterways around the state, including lakes, streams, cattle tanks, and swamps. This species prefers bodies of water with a soft bottom composed of either sand or mud.
Conservation Status:
The yellow mud turtle is not a protected species in Texas and can be legally collected with a hunting license.
Texas Distribution:
In Texas, the single subspecies of Kinosternon flavescens present, K. f. flavescens, is found throughout the state, save the wettest eastern quarter of the state.
Distribution Map: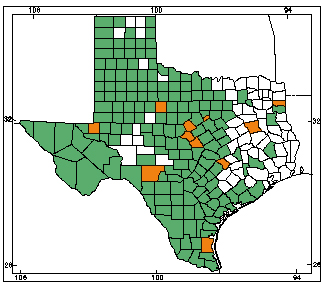 Orange counties indicate new county records since previous Herps of Texas update in 1998; all other colored counties reflect known distribution prior to 1998 for species and/or subspecies. Map is based on museum voucher specimens.