Scientific Name:
Crotalus horridus
Diagnostic Features:
Undivided anal plate.
Keeled dorsal scale rows are either in rows of 25 or 27 near midbody.
Coloration:
Dark crossbands covering a gray background.

In some individuals, light cinnamon-colored vertebral stripe covers a portion of each crossband.

Background color may be a shade of yellow, or even darkly pigmented, obscuring the distinction between the blotches and the background.

Tail is black.

Belly is mostly white with areas of pigment found near the border between ventral and dorsal scales.
Size:
Adults may reach to 152 cm (60 in) in length.
General Distribution:
The range of Crotalus horridus extends through much of the United States, including most of the states east of the Mississippi River. West of the Mississippi, the timber rattlesnake is found as far west as Nebraska, Kansas, Oklahoma and Texas, and as far north as Minnesota. It is not found in Mexico, and only a single small population is found in Canada.
Behavior:
Like all rattlesnakes the timber rattlesnake is venomous, and therefore dangerous if disturbed. If encountered in the wild, they are better left alone. Feeding primarily on rodents and rabbits, the timber rattlesnake is a sit-and-wait predator, often found lying adjacent to rodent paths that weave through the vegetation. They may lie in wait for several days for the chance to capture a meal. Because timber rattlesnakes often congregate in large numbers at den sites for their winter hibernation, they are highly susceptible to human interference. In fact, many populations in the northeastern U.S. have been eliminated as a result of over-collection and unnecessary killing by humans. These snakes are an important part of the food web because they limit rodent populations, as well as being a source of food to several large mammal and bird species. Conservation efforts have been implemented in many states in an effort to learn more about these important predators and to protect those remaining populations from further human-induced problems
Reproduction:
Females give live birth to an average of ten young in the late summer months. These young rattlesnakes may measure between 20-40 cm (8-16 in) at birth.
Habitat:
Timber rattlesnakes can be found in the wooded forests, as well as the well-vegetated lowlands. In Texas, it can be found associated along heavily vegetated riparian waterways found in the eastern part of the state.
Conservation Status:
The timber rattlesnake is the only protected species of venomous snake in Texas and can not be collected without a scientific collecting permit.
Texas Distribution:
Crotalus horridus is found only in the wetter portions of the eastern quarter of the state.
Distribution Map: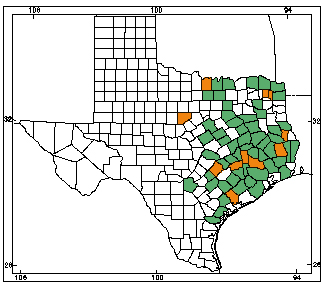 Orange counties indicate new county records since previous Herps of Texas update in 1998; all other colored counties reflect known distribution prior to 1998 for species and/or subspecies. Map is based on museum voucher specimens.