Scientific Name:
Bufo speciosus
Diagnostic Features:
Round body, covered with small warts.

Two black tubercles on hind feet; inner tubercle sickle-shaped.

Cranial crests indistinct and widely separated, or absent.

Oval parotoid glands.
Coloration:
Gray marked with brown or yellow-green spots.

Middorsal stripe absent.
Size:
As an adult, Bufo speciosus can grow to 5-8.5 cm (2-3.5 in) in length.
General Distribution:
In North America, Bufo speciosus is found in Texas and northern Mexico.
Behavior:
Bufo speciosus is nocturnal and burrows in the loose soil. It feeds on insects and other invertebrates.
Reproduction:
Breeding in Bufo speciosus occurs from April to September, after rains.
Habitat:
Bufo speciosus can be found in a wide variety of habitats: grasslands and open woodlands, mesquite-savanna associations, and areas with sandy soil.
Conservation Status:
The Texas toad is not a protected species in Texas and can be legally collected with a hunting license.
Texas Distribution:
In Texas, Bufo speciosus is seen throughout most of the state, except the western Panhandle and the wetter portions of east Texas.
Distribution Map: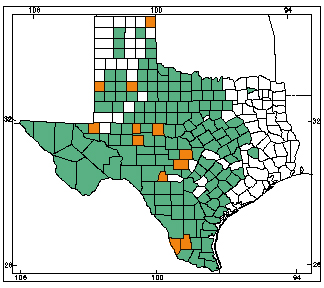 Orange counties indicate new county records since previous Herps of Texas update in 1998; all other colored counties reflect known distribution prior to 1998 for species and/or subspecies. Map is based on museum voucher specimens.