Scientific Name:
Sceloporus olivaceus
Diagnostic Features:
Large lizard with long toes.
Long tail.
Large, spiny dorsal scales.
Coloration:
Dorsal ground color is reddish brown.

Dorsal pattern varies widely.

Males have blue patch on each side of belly and light dorsolateral stripes; adult females have wavy dark lines on dorsum and perhaps on legs near body.
Size:
Adult Sceloporus olivaceus reach total lengths, including tail, of 19-27.5 cm (7.5-11 in).
General Distribution:
In North America, Sceloporus olivaceus is found from the Red River (Oklahoma/Texas state line) south into northern and eastern Mexico.
Behavior:
This diurnal lizard will retreat up a tree when threatened. Sceloporus olivaceus is adept at climbing and is well camouflaged on tree trunks and limbs. This lizard species primarily eats insects, though some small vertebrates may be consumed
Reproduction:
Breeding occurs in early spring. Egg clutches (averaging 14 eggs/clutch) are laid though the summer. Females may lay eggs as many as four times a year.
Habitat:
Sceloporus olivaceus is arboreal and prefers mesquite trees, but may be observed on other tree species (such as oak, pecan, and cedar) as well as along fences, walls, and poles.
Conservation Status:
The Texas spiny lizard is not a protected species in Texas and can be legally collected with a hunting license.
Texas Distribution:
In Texas, Sceloporus olivaceus is found in north, central, and south Texas.
Distribution Map: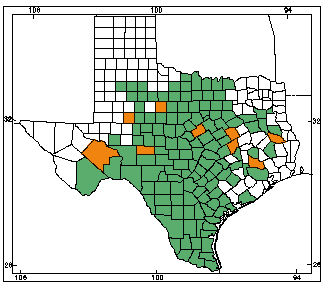 Orange counties indicate new county records since previous Herps of Texas update in 1998; all other colored counties reflect known distribution prior to 1998 for species and/or subspecies. Map is based on museum voucher specimens.