Scientific Name:
Coleonyx brevis
Diagnostic Features:
Slender body with large head and large eyes with vertical pupils and movable eyelids

Small granular scales.

Slender toes without pads.

Thick tail equal in length to the head and body.

Females grow larger than males.
Coloration:
Pinkish brown ground color with alternating cross bands of brown and pale yellow.

Dark and light colored blotches and spots on body create mottled look, especially with age.
Size:
Adult Coleonyx brevis may reach lengths of 10-12 cm (4-4.75 in), including tail.
General Distribution:
In North America, Coleonyx brevis is found across much of west Texas, as well as parts of south Texas, New Mexico, and northeastern Mexico.
Behavior:
Nocturnal, This nocturnal gecko remains under cover during daylight hours and exits at dusk. Texas banded geckos can commonly be seen on roadways at night as it forages for insects and spiders. This species of gecko emits squeaks when handled.
Reproduction:
Breeding is not well described, but probably occurs for a few months in late spring with one or two eggs being laid. Juveniles have a distinctive chocolate brown bands that develop light areas as they become adults.
Habitat:
The Texas banded gecko is a terrestrial species lives in dry, rocky areas, where it can be found in canyons and crevices, as well as under rocks and fallen yuccas.
Conservation Status:
The Texas banded gecko is not a protected species in Texas and can be legally collected with a hunting license.
Texas Distribution:
In Texas, Coleonyx brevis is found in the Trans-Pecos and the western portions of south Texas.
Distribution Map: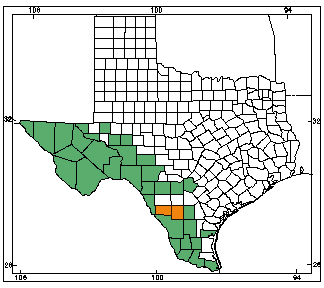 Orange counties indicate new county records since previous Herps of Texas update in 1998; all other colored counties reflect known distribution prior to 1998 for species and/or subspecies. Map is based on museum voucher specimens.