Scientific Name:
Ficimia streckeri
Diagnostic Features:
Divided anal plate.
Smooth scales, in rows of 23-25 at midbody, with apical pits.
Coloration:
A light brown or grey dorsal background with as many as 60 brown or olive blotches (narrow crossbands) found the length of the spine.

Cream colored belly is contrasted slightly with the buff colored chin, labial scales, and lower edges of the dorsal surface.

Markings on the head are generally absent, though a large brown spot underneath the eye makes the eye appear much larger than normal.
Size:
Adult Tamaulipan hook-nosed snakes usually measure 18-28 cm (7-11 in), with the record length being 48 cm (19 in).
General Distribution:
The Tamaulipan hook-nosed snake is found only in south Texas and adjacent northern Mexico.
Behavior:
A nonvenomous snake, Ficimia streckeri feeds on invertebrates, primarily spiders and occasional centipedes. The is a slow moving species and an adapt burrower, often burrowing through the folds of a captor's hands and into the soil below. They are not known to bite when handled, instead relying on an inventive way to startle an aggressor. Both species of hook-nosed snakes are known for creating a popping noise by everting and contracting its cloaca through its vent.
Reproduction:
Not much is known about the reproduction of this snake, other than it is egg-bearing.
Habitat:
Ficimia streckeri can be found in thornbrush woodlands in the lower Rio Grande valley, often seen near man-made water sources such as stock tanks and irrigation canals. They also can be found crossing roads at night.
Conservation Status:
The Tamaulipan hook-nosed snake is not a protected species in Texas and can be legally collected with a hunting license.
Texas Distribution:
In Texas, Ficimia streckeri is found south of San Antonio, nearing the Gulf Coast in Cameron and Willacy Counties.
Distribution Map: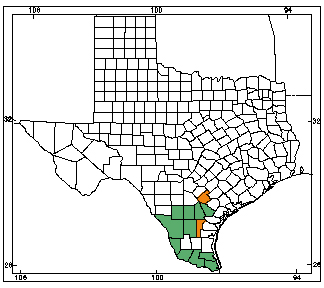 Orange counties indicate new county records since previous Herps of Texas update in 1998; all other colored counties reflect known distribution prior to 1998 for species and/or subspecies. Map is based on museum voucher specimens.