Scientific Name:
Lampropeltis triangulum
Diagnostic Features:
Smooth dorsal scales (usually in rows of 21 at midbody).
Undivided anal plates.
Coloration:
Each of the four subspecies of Lampropeltis triangulum found in Texas has its own combination of characters which distinguishes it from the others.
All subspecies of milksnakes all have black bands bordering both sides of its red bands. This is in contrast to the coral snake (Micrurus tener), who has yellow bands bordering both sides of its red bands.
Size:
Across the four subspecies of Lampropeltis triangulum found in Texas, there is a wide range of adult body sizes, from the smallest subspecies, L. t. amaura (max 61 cm; 24 in), to the largest, L. t. annulata (51-81 cm; 20-32 in).
General Distribution:
The nine subspecies of U. S. Lampropeltis triangulum are found throughout much of the U.S., with the majority of taxa being found east of Texas. They range from Utah and New Mexico to the east coast, being found from Maine to Florida.
Behavior:
Milksnakes are so named because of the myth of their attaching to cow's udders and receiving nourishment. Nothing could be farther from the truth, and in fact, the only remotely true thing about the myth is their occasional presence in barns, where they routinely feed on rodents and other snakes. Lampropeltis t. celaenops is reported to feed primarily on other snakes, whereas L. t. gentilis often incorporates lizards and insects in its diet. Though harmless, L. triangulum will bite at times when handled and will often release a foul-smelling musk, attempting to instigate its release.
Reproduction:
The milksnakes are egg layers, breeding in the spring and lay their clutches of 5-12 eggs in the summer. Newborn milksnakes emerge in late summer, measuring 23-24 cm (9 in) in length.
Habitat:
Milksnakes in Texas can be found in a variety of habitats across the state, with moisture being a unifying variable. Lampropeltis triangulum gentilis can be found in the spring while it is thermoregulating underneath rocks and the nocturnal Lampropeltis t. celaenops is found almost exclusively in rock cuts where it hunts or while it crosses Chihuahuan desert roads during the early summer months. Lampropeltis t. annulata can also be found crossing roads at night, often crossing near low-water crossings during spring and early fall in the late evenings. Lampropeltis t. amaura can be found seeking refuge underneath bark or hiding in tree stumps during the winter months, and occassionally is found under rocks during the wetter portions of the spring.
Conservation Status:
The milksnake is not a protected species in Texas and can be legally collected with a hunting license.
Texas Distribution:
In Texas, milksnakes are found in across most of the state, save the extreme western portions of the Trans-Pecos, where their distribution is patchy at best.
Distribution Map: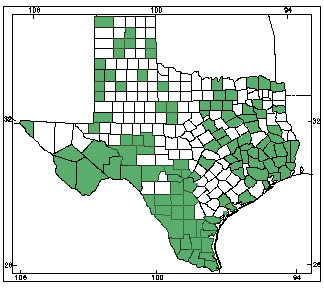 Map is based on museum voucher specimens; last updated 12 November 2014.