Scientific Name:
Rhinocheilus lecontei
Diagnostic Features:
Smooth dorsal scales, in 23 rows at midbody.
Undivided anal scale.
Single row of caudal scales.
Coloration:
A series of black saddles found down the middle of its back on a background consisting of both yellow and red.

Also, black speckling is seen in between the dark blotches with different amounts present in different populations.

The amount of black pigmentation found on the belly can vary, with populations in south Texas often having only white belly scales, whereas individuals in west Texas having black pigment present on most ventral scales.
Size:
Adult Rhinocheilus lecontei typically reach 56-81 cm (22-32 in) in length.
General Distribution:
Rhinocheilus lecontei is found in the western deserts of the U.S., as well as parts of New Mexico, Texas, Oklahoma and Kansas. The distribution of R. lecontei also extends into parts of northern Mexico
Behavior:
Rhinocheilus lecontei is a non-venomous species, feeding primarily on lizards and small rodents, but it has been known to occasionally eat other snakes. Often vibrating its tail when disturbed, the long-nosed snake also has another effective defense against predators. When threatened, the long-nosed snake will frequently void the contents of its cloaca along with a surprising amount of blood. A surprised human will often find his/her arm covered in blood and feces when first picking up a long-nosed snake in the wild. Long-nosed snakes rarely bite, more often hiding its head among its coils when molested.
Reproduction:
An egg layer, R. lecontei mates in the spring and females deposit their clutch, averaging 6, in the early summer. Young hatch out of their eggs in August and September, measuring 23 to 28 cm (9-11 in).
Habitat:
The long-nosed snake is one of the most common snakes found in the deserts of Texas and often can be seen crossing roads during the warm nights of summer.
Conservation Status:
The long-nosed snake is not a protected species in Texas and can be legally collected with a hunting license.
Texas Distribution:
The single subspecies of Rhinocheilus lecontei found in Texas, R. l. tesselatus, is present in the western two-thirds of the state, much more common in the western deserts and scrublands of south Texas than in the juniper woodlands of central Texas and the plains of the Panhandle.
Distribution Map: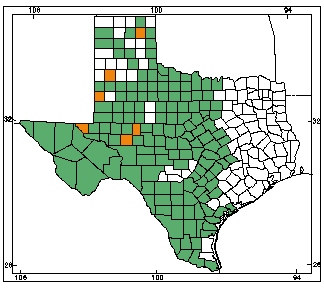 Orange counties indicate new county records since previous Herps of Texas update in 1998; all other colored counties reflect known distribution prior to 1998 for species and/or subspecies. Map is based on museum voucher specimens.