Scientific Name:
Tropidoclonion lineatum
Diagnostic Features:
Undivided anal plate.
Keeled dorsal scales (19 rows near midbody).
Usually six supralabials.

The pointed head of T. lineatum, usually no wider than its neck, is used to burrow while searching for its insect and earthworm prey.
Coloration:
Dull olive green dorsal background color.

Thin middorsal line that may be yellow, white or orange.

Additional lateral lines found on the second and third dorsal scale rows.

Double row of dark half moons found on the white ventral surface is this species's most identifiable characteristic.
Size:
Adult Tropidoclonion lineatum typically grow to 20-38 cm (8-15 in) in length.
General Distribution:
The scattered distribution of Tropidoclonion lineatum is from southern Minnesota and South Dakota to central Texas, with isolated populations present in New Mexico, Colorado and the Texas Panhandle.
Behavior:
A non-venomous snake, Tropidoclonion lineatum will not bite humans, nor harm them, though it may put on an impressive threat display complete with a flattening of its head. Generally nocturnal, these snakes are active from late March to November and commonly feed on earthworms, sow bugs, in addition to a wide variety of insects.
Reproduction:
A live bearing snake, Tropidoclonion lineatum deposits its litter of 4-10 snakes during mid-August. The young snakes measure 7-13 cm (3-5 in) when born.
Habitat:
The lined snake is a common inhabitant of prairies and pasture lands, often found seeking refuge under flat stones. They can also be found in relatively urban areas, such as fields and open lots, as well as under debris piles and city dumps. The main characteristic these different habitats share is the presence of high amounts of water in the soil.
Conservation Status:
The lined snake is not a protected species in Texas and can be legally collected with a hunting license.
Texas Distribution:
In Texas, Tropidoclonion lineatum is found throughout much of the central third of the state, along with a disjunct Panhandle population.
Distribution Map: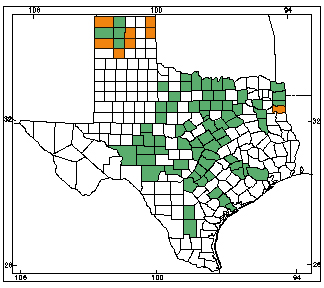 Orange counties indicate new county records since previous Herps of Texas update in 1998; all other colored counties reflect known distribution prior to 1998 for species and/or subspecies. Map is based on museum voucher specimens.