Scientific Name:
Pantherophis obsoletus
Diagnostic Features:
Divided anal plate.
Dorsal scales, in 27 rows at midbody, are keeled only along the spine.
Coloration:
A series of around 30 brown blotches are positioned down the length of the back, on a gray or yellowish background.

Red flecks of pigment can be seen on the skin between the dorsal scales.

Ventral surface has an obscured white and black checkerboard pattern.

Underside of the tail is unmarked and the chin surface is often white.
Size:
Pantherophis obsoletus typically reach adult sizes of 106.5-183 cm (42-72 in), with the largest measuring 218.5 cm (86 in).
General Distribution:
Pantherophis obsoletus has a wide distribution throughout much of the eastern and southern U.S.
Behavior:
Eastern ratsnakes are the only rat snake in Texas that can be considered arboreal, as they seek food and refuge inside hollow limbs as well as on exposed branches. Being able to access many different habitats, these rat snakes feed on a variety of mammalian, avian, reptilian (mainly lizards) and amphibian (mainly frogs and toads) prey. Pantherophis obsoletus also can be found associated with human habitations, as snakes may take up residence in barns and associated farm structures. They kill their prey by constriction, immobilizing their prey in coils of their bodies before consuming them. Easily one of the most ill-tempered snakes found in Texas, it is non-venomous but will bite any aggressor voraciously.
Reproduction:
Eastern ratsnakes breed in the spring and early summer, with eggs deposited during the summer. Juveniles hatch out of their eggs from late August to October, measuring 27-40 cm (10.5-16 in) in length.
Habitat:
Pantherophis obsoletus is a common snake that can be found in a variety of habitats, including rivers and streams, heavily wooded areas, and rocky canyons throughout in central and eastern Texas.
Conservation Status:
The eastern ratsnake is not a protected species in Texas and can be legally collected with a hunting license.
Texas Distribution:
The single subspecies found in Texas, Pantherophis o. lindheimeri is found throughout much of Texas, ranging westward to the western edge of the Edwards Plateau, south to Corpus Christi, north to the Red River and eastward to the eastern state boundaries.
Taxonomy Notes:
Formerly Elaphe, the North American ratsnakes have been restricted to the genus Pantherophis by Utiger et al. (2002, Russian J. Herpetology 9:105-124).
Distribution Map: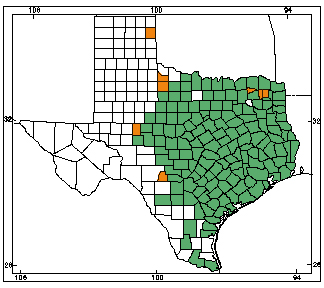 Orange counties indicate new county records since previous Herps of Texas update in 1998; all other colored counties reflect known distribution prior to 1998 for species and/or subspecies. Map is based on museum voucher specimens.