Scientific Name:
Heterodon platirhinos
Diagnostic Features:
Anal plate is divided.
Dorsal scales are keeled, in rows of 23 or 25 at midbody.
Coloration:
Wide variety of background dorsal color, ranging from tan, brown, and olive to yellow and orange.

Some individuals, especially those along the eastern coast of the U.S., are entirely black (or melanistic).

A series of darker blotches running the length of the body along the spine, with dark blotches present on either side of the neck and a series of small circles running the length of the body on each side of the body.

A postocular stripe and a dark bar between the eyes is also present.

The belly is gray and unmarked with dark pigment, with the underside of the tail often lighter than the dorsal color of the body.
Size:
Adult eastern hog-nosed snakes reach 51-84 cm (20-33 in) in length.
General Distribution:
Heterodon platirhinos is confined to the eastern half of the U.S., found from New Hampshire and Cape Cod, south to Florida, west to Texas and north to Minnesota.
Behavior:
Hog-nosed snakes are so named because of their upturned keeled rostral scale. This modification allows them to burrow easily into the soil, either to seek shelter or to seek out their prey. Eastern hog-nosed snakes are rear-fanged, that is they are venomous, though they pose little threat to humans, even when handled, because of this species reluctance to bite. Occasional bites to humans do occur, usually when a person has been handling toads prior to handling a hog-nosed snake. Human reactions to hog-nosed snake bites can include large amounts of swelling, depending on the duration of the bite. Their venom, though mild to human, is highly effective against its usual prey of frogs, toads, and occasionaly lizards. Young snakes may ingest crickets and other insects. The venom is delivered to the prey by way of enlarged teeth in the rear of the mouth.
Reproduction:
Breeding occurs in the spring with eggs laid around a month and a half after mating. Clutch size range from 4-61 (average of 22) eggs, hatching in late summer. Newborn hatchlings are 16.5-24 cm (6.5-9.5 in).
Habitat:
Hog-nosed snakes are associated with grassy areas or riparian watercourses where loose soil is available for burrowing. Eastern hog-nosed snakes are often seen in areas along streams or lakes, sometimes associated with open woodlands or pine forests.
Conservation Status:
The eastern hog-nosed snake is not a protected species in Texas and can be legally collected with a hunting license.
Texas Distribution:
In Texas, H. platirhinos is found in the eastern two thirds of the state including the Panhandle, but excluding parts of South Texas.
Distribution Map: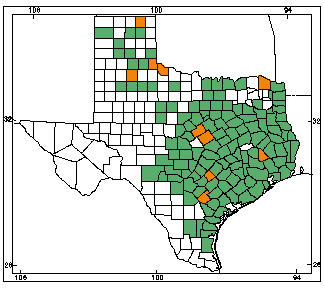 Orange counties indicate new county records since previous Herps of Texas update in 1998; all other colored counties reflect known distribution prior to 1998 for species and/or subspecies. Map is based on museum voucher specimens.