Scientific Name:
Deirochelys reticularia
Diagnostic Features:
Long neck; head and neck length equal to length of plastron (80% carapace).

Plastron unhinged.

Carapace lacks keel or posterior serration, but with fine line-like ridges.

Jaw is not hooked or notched.

Webbed toes.
Coloration:
Carapace dark green to tan, with light netlike pattern on shell.

Plastron yellow, may have pigment along seams of scutes.

Each forearm with broad yellow stripe.

Hind legs are vertically striped (wearing "striped pants").

Skin color olive to brown.
Size:
Deirochelys reticularia reach a maximum shell length of 25 cm (10 in); average adult turtles measure 10-15 cm (4-6 in).
General Distribution:
In North America, Deirochelys reticularia is found across the southeastern United States, from Texas and Louisiana to Virginia and Florida.
Behavior:
Chicken turtles are omnivores, eating vegetation as well as crayfish, fish, and tadpoles. This turtle species draws food items into its mouth with suction, effective at capturing moving prey. Hatchlings are thought to be more carnivorous, becoming omnivorous with age. This species may be found out of water walking, often prompted by drought and can be a conspicuous basking turtle.
Reproduction:
Nesting can occur year-round but is concentrated from January to March. Multiple clutches of eggs are laid each year, each consisting of 5-15 eggs. Incubation is 75-115 days.
Habitat:
A freshwater species, the western chicken turtle is at home in still water swamps, ponds and lakes. This species is not typically found in moving water habitats.
Conservation Status:
The chicken turtle is not a protected species in Texas and can be legally collected with a hunting license.
Texas Distribution:
In Texas, the single subspecies of Deirochelys reticularia found in Texas, Deirochelys r. miaria, is restricted to the wetter eastern quarter of the state.
Distribution Map: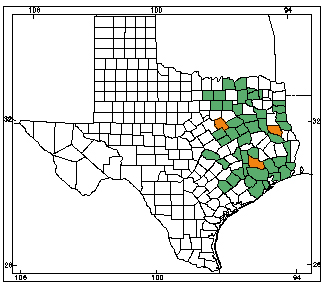 Orange counties indicate new county records since previous Herps of Texas update in 1998; all other colored counties reflect known distribution prior to 1998 for species and/or subspecies. Map is based on museum voucher specimens.