Scientific Name:
Bufo marinus
Diagnostic Features:
May be rows of warts on both sides of the midline; if present, rows of warts more prominent in males.

Triangular parotoid glands extending down sides of body.

Prominent cranial crests.

Body round and flat.
Coloration:
Dorsal color brown to yellow, red or olive-green.

May have light middorsal stripe.
Size:
Bufo marinus is the largest member of the genus Bufo found in Texas, measuring over (10-18 cm (4-7 in) in length.
As adults, females are larger than males and can weigh oup to 1.5 kg (3.3 lbs).
General Distribution:
In North America, Bufo marinus is found primarily along the Pacific and Gulf Coasts of Mexico. This species is also found throughout Central and South America and has been introduced to different areas around the world.
Behavior:
Bufo marinus is nocturnal and can be found under stones, logs, or other large objects, or in burrows during the day. The cane toad feeds on insects, invertebrates, amphibians, and reptiles. It can secrete a highly toxic milky substance from its skin and glands when threatened.
Reproduction:
Depending on favorable weather conditions, breeding in Bufo marinus can take place year-round.
Habitat:
Bufo marinus lives in or near natural pools and streams, as well as man-made impoundments.
Conservation Status:
The cane toad is not a protected species in Texas and can be legally collected with a hunting license.
Texas Distribution:
In Texas, the range of Bufo marinus is restricted to the southern counties of the state, along the Rio Grande river valley.
Distribution Map: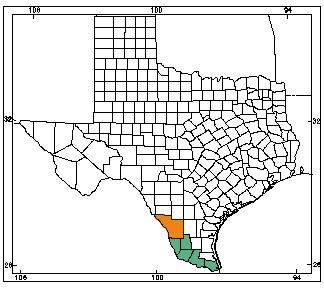 Orange counties indicate new county records since previous Herps of Texas update in 1998; all other colored counties reflect known distribution prior to 1998 for species and/or subspecies. Map is based on museum voucher specimens.