Scientific Name:
Rana catesbeiana
Diagnostic Features:
Prominent tympanum (larger in males than females).

Dorsolateral folds end near tympanum.

Fully webbed hind feet, except fourth toe.
Coloration:
Plain green or with gray net-like pattern on green ground color.

Ventral surfaces white and mottled with gray or yellow.

Long hind legs may be blotched or banded.

Belly of males may be more strongly mottled.
Size:
The largest frog species found in the United States, Rana catesbeiana reach between 7-15 cm (3.5-6 in) as adults.
General Distribution:
In North America, Rana catesbeiana is found in the eastern two-thirds of the United States, barely extending into Canada and Mexico; R. catesbeiana also is introduced in some western states.
Behavior:
Rana catesbeiana is active in the evening and at night. Rana catesbeiana is a solitary and territorial species and is able to leap great distances. The bullfrog feeds on anything that moves and can be swallowed, including insects, crawfish, small fish, frogs, birds and snakes.
Reproduction:
Breeding in Rana catesbeiana takes place from February to October. Egg masses are laid in a film on surface of the water.
Habitat:
Rana catesbeiana prefers large bodies of water, ponds, lakes, and slow streams and is most often seen at the edge of the water in vegetation or debris.
Conservation Status:
The American bullfrog is not a protected species in Texas and can be legally collected with a hunting license.
Texas Distribution:
In Texas, Rana catesbeiana is found throughout the state, except in mountainous areas.
Distribution Map: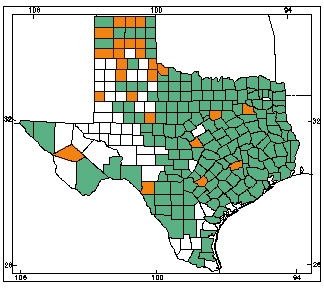 Orange counties indicate new county records since previous Herps of Texas update in 1998; all other colored counties reflect known distribution prior to 1998 for species and/or subspecies. Map is based on museum voucher specimens.